this is my first CAF so, any help would be welcomed. thank you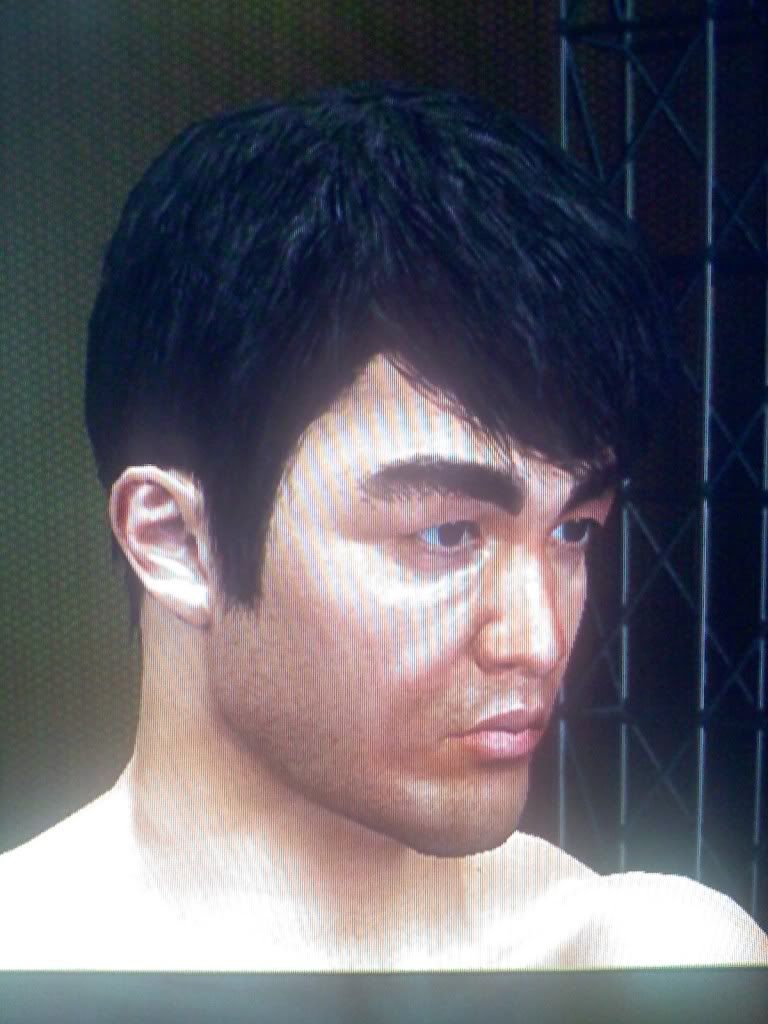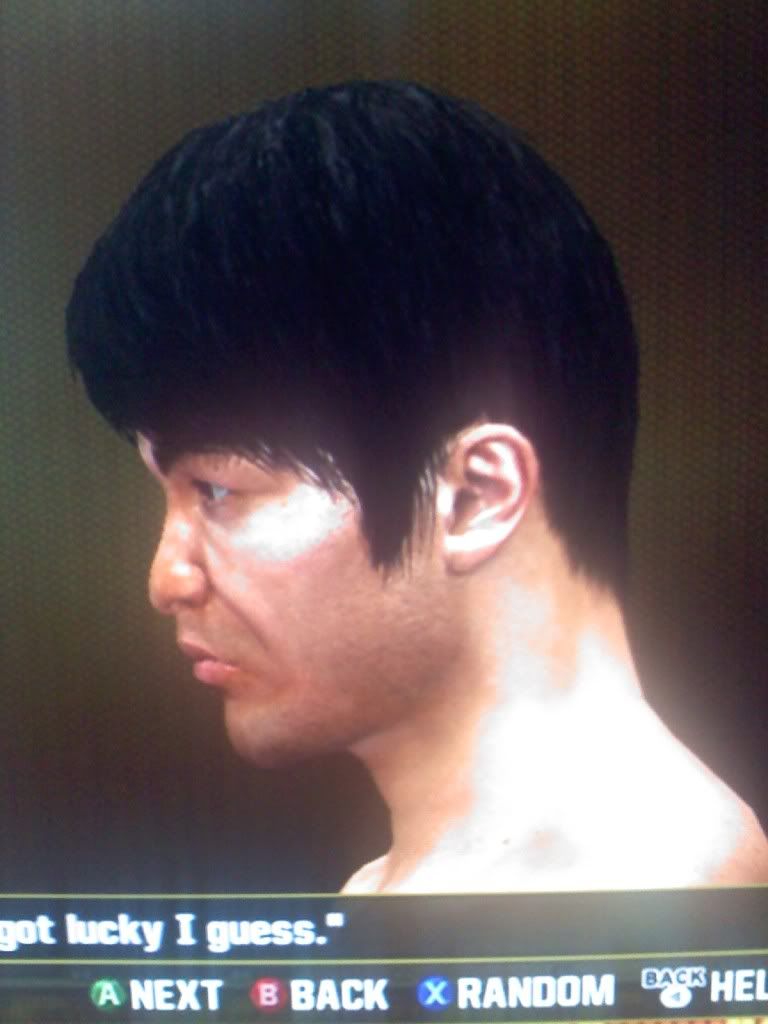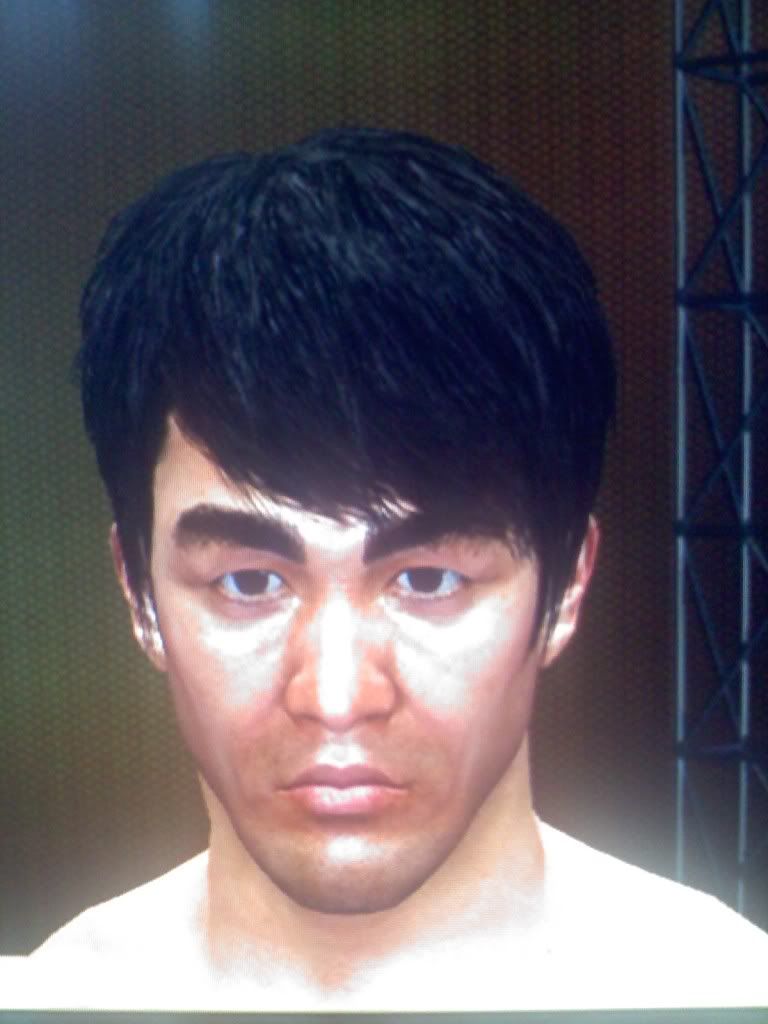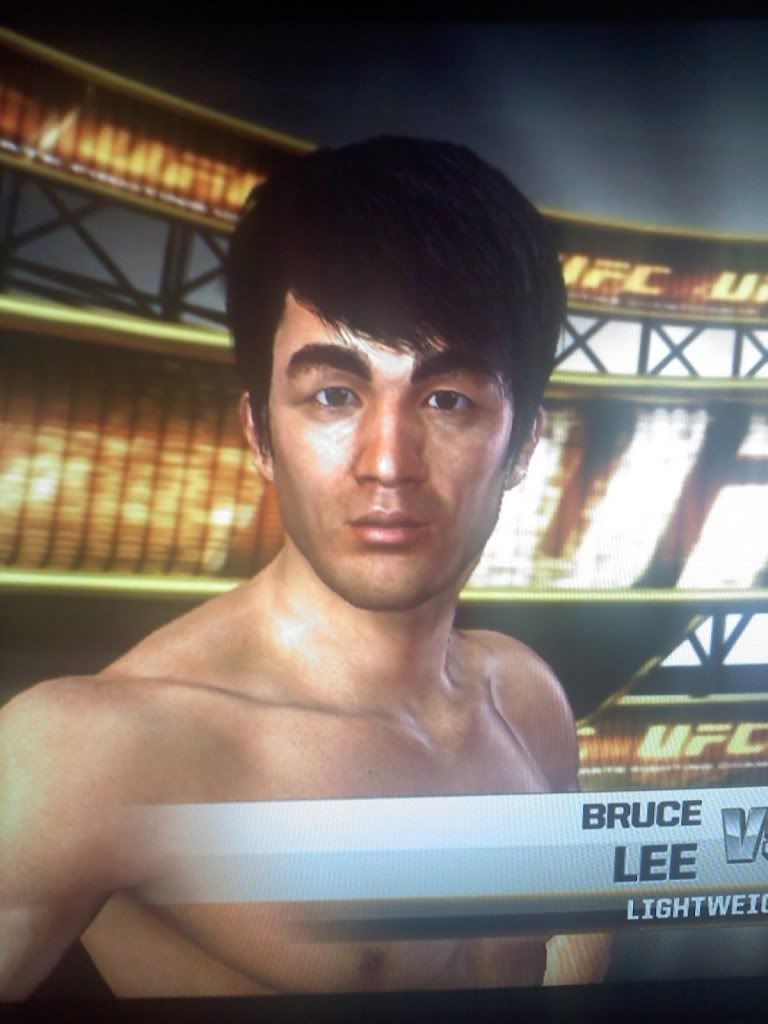 General
Name: Bruce "THE DRAGON" Lee
Hometown: San Fran Cali
Fighting Out Of: same
Age: 32
Height/Weight
Height: 5'7
Weight: 155
Skin/Physique
Body Type: 5 as skinny and ripped as there is
Body Skin: 365 50 50
Face Type: 7
Fight Style
Navigation Style: flicker
Fight Stance: southpaw and switch
Lefty/Righty: righty (preferred strong side forward approach to make his lead strikes more powerful and to make his weak side strikes (left side) more balanced with his strong side.
AI counter striker/technical striker
Physical Appearance
Hair
Head Hair: 37 (55 works too, but there's a weird glitch at the end of a match when you get your hand raised)
hue 30 sat 22 bright 20
Brow Type: 3
hue 30 sat 22 bright 20
Brow Thickness: 100
Mustache: none
Beard Type: shadow 40%
hue0 sat 0
bright 20
Head
Head/Face
Head: 40 80 40
Head Top: 100 75 0
Crown: 0 48 0 0
Face: 0 100 52 12
Extra: 15
Brow/Eye
Brow: 50 0 100/20 70/ 0
Eye: 55 0 50/ 40 85/ 50
Eyelid: 80 100/ 100
Eye Color: 360 25 25
Nose/Cheek/Ear
Nose: 45/100 100 0/ 0
Nostril: 100 100/ 50 100 0/60
Cheek: 100 0/ 0
Cheek Bone: 65 0 / 0
Ear: 0/ 10 15/ 15 15 15
Right Ear Damage: 0
Left Ear Damage: 0
Mouth/Jaw
Mouth: 78/ 50 75 54
Upper Lip: 50 100 50
Lower Lip: 50 50 100
Corner of Mouth: 10 15 0
Chin: 100 100 100
Chin/Neck: 50 0
Jaw: 100 100 35
attributes, after career mode this is how i made him.
REVISED version, for those complaining... i just redistributed the points
overall 87
strength 76 would put him as strong as anyone in the LW division and most WW's
speed 95 his moves had to be slowed down for film.he would make anyone in the ufc look like they were moving in slow motion
cardio 94 this guy was a machine, possibly the best conditioned athlete on the planet, maybe ever.
standing strikes 100/100 i had to do it, his striking is beyond anything seen before or since.
standing kicks 100/100
clinch striking 82/81
ground striking 82/82
clinch grapple 80/83
take downs 81/84
ground grapple 80/85
submissions 80/90
Bruce preferred using straight punches and low line kicks, so i would give him a level 3 for all of the chosen moves below
and beef up his strong leg kicks and sway punches as well
STRIKING, BOTH STANDING
with LB held in (x360)
X left guarded hook
>X chucks left straight
<X left uppercut
step>X stepping left undercut
Y right guarded hook
>Y right undercut
<Y jab to sway back
step>Y stepping heavy jab (needless to say, he loved the jab, and could knock anybody out with it)
A left muay thai headkick
>A left flying headkick
<A left high front kick
step>A two step left middle kick
B gsps headkick
>B one feint head kick
<B right side kick (most commonly used kick)
step>B two step right flying knee
also, upgrade his left muay thai elbow in close range and give him a right uppercut in clinch range as well and a dodge knee
CLINCH
Bruce didnt do much clinch work, but i would give him level 1 knees and uppercuts in the clinch
too bad there isnt any hand trapping or parries in the game...
TAKEDOWNS
i believe Bruce would use judo throws (level2)from double underhooks double and over/underhook defense. i would not look for Bruce to take the fight to the ground and he would most likely look to get back to his feet, therefore no double underhooks or body lock suplexes... he wouldnt look to shoot or use clinch takedowns, he would keep the fight standing and sprawl and scramble to get to his feet, the judo throws would mostly be a defensive move and he would stand back up afterward
GROUND GRAPPLING
on the ground, i could see him using cage transitions (just seems like something he would do) and reversals mostly to get back to his feet, so i would give him strong transitions from the bottom.
GROUND AND POUND
not something i see Bruce doing much of because if he got into a dominant position, he would likely want to stand back up, and seeing as how when Bruce was alive nobody in America or China had heard of the Gracie family, and Mark Coleman hadnt come around yet to invent ground and pound....
SUBMISSIONS
in Enter the Dragon, Bruce demonstrated an armbar at the beginning of the movie... showing that he did have some knowledge of simple submissions, although i would keep the standard ones and wouldnt upgrade these for this CAF to be "historically accurate". 1970's Bruce would keep it simple, and nobody outside of Brazil had yet heard of the Gracie's or Brazilian Jujitsu, but he would break his own arm to get out of a sub, then beat you to death with it. he would never tap